Communicate more efficiently with MessagePal in your office!
Instant messaging software designed specifically for office workgroups.
MessagePal provides simple, secure, instant messaging between users on your LAN. Only two minutes to download and install, MessagePal is a peer-to-peer system requiring no central server or administration. The result is a very cost-effective LAN messaging system that provides unique office and workgroup features not found in consumer-oriented, ad-supported IM services or even larger and more expensive enterprise messaging systems. Easy to use and administer, MessagePal can support your whole office. Click to see how MessagePal works.

If you're looking for a better way to communicate short messages between co-workers, you'll be delighted by MessagePal. Download our free, fully-functional 30-day trial to see how easy and productive MessagePal will be in your office!
For More Information
MessagePal's Unique Benefits
MessagePal is revolutionary office messaging software...
| | |
| --- | --- |
| | Fast & Efficient: Announce a call or meeting with a quick message to a partner, colleague or co-worker's computer screen without disrupting calls or meetings. Get a quick reply. |
| | Customizable: Add 24 message replies for 1 click access ("Yes", "Take a Message", "Send them in", ...). Speeds up responses without getting distracted. |
| | Productive: Each user can define their own grouplists to simplify sending messages to several users ("Admins", "Supervisors", "Lunch Buddies", ...). Broadcast an important message to a select group or everyone: Inform or mobilize. |
| | Low Maintenance: Requires no server or administration. Two-minute install on each machine and you're done! |
| | Discreet: Silently announce a call... tell someone another call is holding without disturbing them. Discretely inform someone their visitor has arrived or a meeting is about to begin. Eliminates interruptions and wasted walking or shouting. |
| | Encourages Teamwork: Discretely get an answer... While still on the phone, get a crucial piece of information from a co-worker or ask them to join a conversation - all without disrupting the phone call. |
| | No IT Support: End-users can install and use in minutes |
| | Secure: All messages are encrypted and stay within the local LAN. |
| | Value: Pay for only the users you need at prices as low as $9.99 per user! |
- Latest MessagePal News -
MessagePal 1.8.0 released.
New! Features for Network Administrators
Current MessagePal version is 1.8.0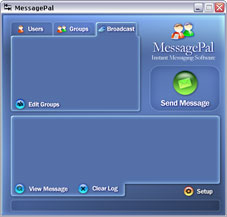 Click here for more screenshots
"With MessagePal, one assistant can handle the phones for eight instead of two." - Mike S., NY
---
"It's a no-brainer! What other $20 office tool will you use 30 times everyday?" - Susan D., Calif.
---
"We get clients answers … before they've hung up." - Art G., Pa.
---
"Starting meetings on-time is easier with MessagePal." - Debbie S., Fl.